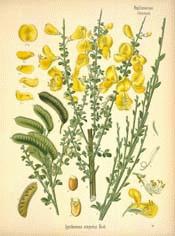 These are the first two stanzas of what is a very long poem.
Wild Broom
(or The Flower of the Desert)
'And men loved darkness rather than the light'
John, III:19
Fragrant broom,
content with deserts:
here on the arid slope of Vesuvius,
that formidable mountain, the destroyer,
that no other tree or flower adorns,
you scatter your lonely
bushes all around. I've seen before
how you beautify empty places
with your stems, circling the City
once the mistress of the world,
and it seems that with their grave,
silent, aspect they bear witness,
reminding the passer-by
of that lost empire.
Now I see you again on this soil,
a lover of sad places abandoned by the world,
a faithful friend of hostile fortune.
These fields scattered
with barren ash, covered
with solid lava,
that resounds under the traveller's feet:
where snakes twist, and couple
in the sun, and the rabbits return
to their familiar cavernous burrows:
were once happy, prosperous farms.
They were golden with corn, echoed
to lowing cattle:
there were gardens and palaces,
the welcome leisure retreats
for powerful, famous cities,
which the proud mountain crushed
with all their people, beneath the torrents
from its fiery mouth. Now all around
is one ruin,
where you root, gentle flower, and as though
commiserating with others' loss, send
a perfume of sweetest fragrance to heaven,
that consoles the desert. Let those
who praise our existence visit
these slopes, to see how carefully
our race is nurtured
by loving Nature. And here
they can justly estimate
and measure the power of humankind,
that the harsh nurse, can with a slight movement,
obliterate one part of, in a moment, when we
least fear it, and with a little less gentle
a motion, suddenly,
annihilate altogether.
The 'magnificent and progressive fate'
of the human race
is depicted in this place.
Proud, foolish century, look,
and see yourself reflected,
you who've abandoned
the path, marked by advancing thought
till now, and reversed your steps,
boasting of this regression
you call progress.
All the intellectuals, whose evil fate
gave them you for a father,
praise your babbling, though
they often make a mockery
of you, among themselves. But I'll
not vanish into the grave in shame:
As far as I can, I'll demonstrate,
the scorn for you, openly,
that's in my heart,
though I know oblivion crushes
those hated by their own time.
I've already mocked enough
at that fate I'll share with you.
You pursue Freedom, yet want thought
to be slave of a single age again:
by thought we've risen a little higher
than barbarism, by thought alone civilisation
grows, only thought guides public affairs
towards the good.
The truth of your harsh fate
and the lowly place Nature gave you
displease you so. Because of it
you turn your backs on the light
that illuminated you: and in flight,
you call him who pursues it vile,
and only him great of heart
who foolishly or cunningly mocks himself
or others, praising our human state above the stars.
There is a downloadable translation of the whole poem here: