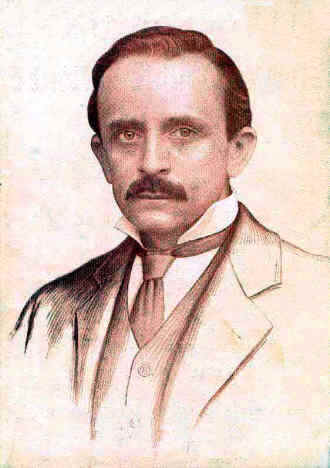 This little book, picked up in a local second-hand bookshop, is Barrie's adulatory account of his mother's life and his relationship with her, published after her death in 1896. It's a fairly maudlin read, but tells us much about Barrie's early emotional life. J. M. Barrie was born in the village of Kirriemuir, in Forfarshire (now Angus), the son of a handloom weaver. His mother, Margaret Ogilvy was the daughter of a stonemason. The couple had ten children, of whom Barrie was the ninth. Jamie, as he was called, heard tales of pirates from his mother, who read her children adventure stories in the evenings. Barrie's father Barrie rarely makes any appearance in his autobiographical works, and in this book is only mentioned at the very end.

Before her marriage, Margaret Ogilvy belonged to a religious sect called the Auld Lichts, or Old Lights, and many of the stories concerning it inspired Barrie's later work. When Barrie was seven, his brother David died in a skating accident. David had been the mother's favourite child, and his death plunged her into the depression from which she never fully recovered. Apparently, her only comfort was in the thought that David would never grow up and leave her and it is suggested by some that this thinking may have inspired Barrie's creation of Peter Pan, the boy who never grew up. Barrie tried to comfort his mother and gain her affection by dressing up in the dead boy's clothes, but for a period after David's death she took little interest in him or anything else.
This book memorialises the obsessive relationship which over time grew up between them, a relationship which remained a strong influence throughout Barrie's life.